Foodanddrink Blog Posts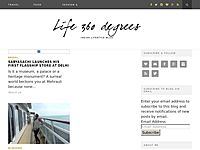 The cute little dining place at Bandra was on a tiny break. But hey, who doesn't deserve a break… The post The Sassy Spoon at Bandra just got Sassier appeared first on Life 360 degrees.

Japanese beer is very expensive in bars. Sure, you can buy cans for 200yen, but if you want to save some money (or are infuriated over the difference from the prices of your home country) then why not brew it yourself? Got the space? And the patie...

I have written before about getting your Japan fix in the UK. But what about getting your home comforts whilst in Japan? I have learned to live with (and sometimes love) the Japanese alternative of most things: teabags, chocolate, shampoo etc.

In language school, I learned one word for "potato" in Japanese: ジャガイモ (jagaimo). Turns out, real life isn't as simple as language school would have you believe. In Japanese supermarkets, I've rarely seen the vegetable actually labeled with...